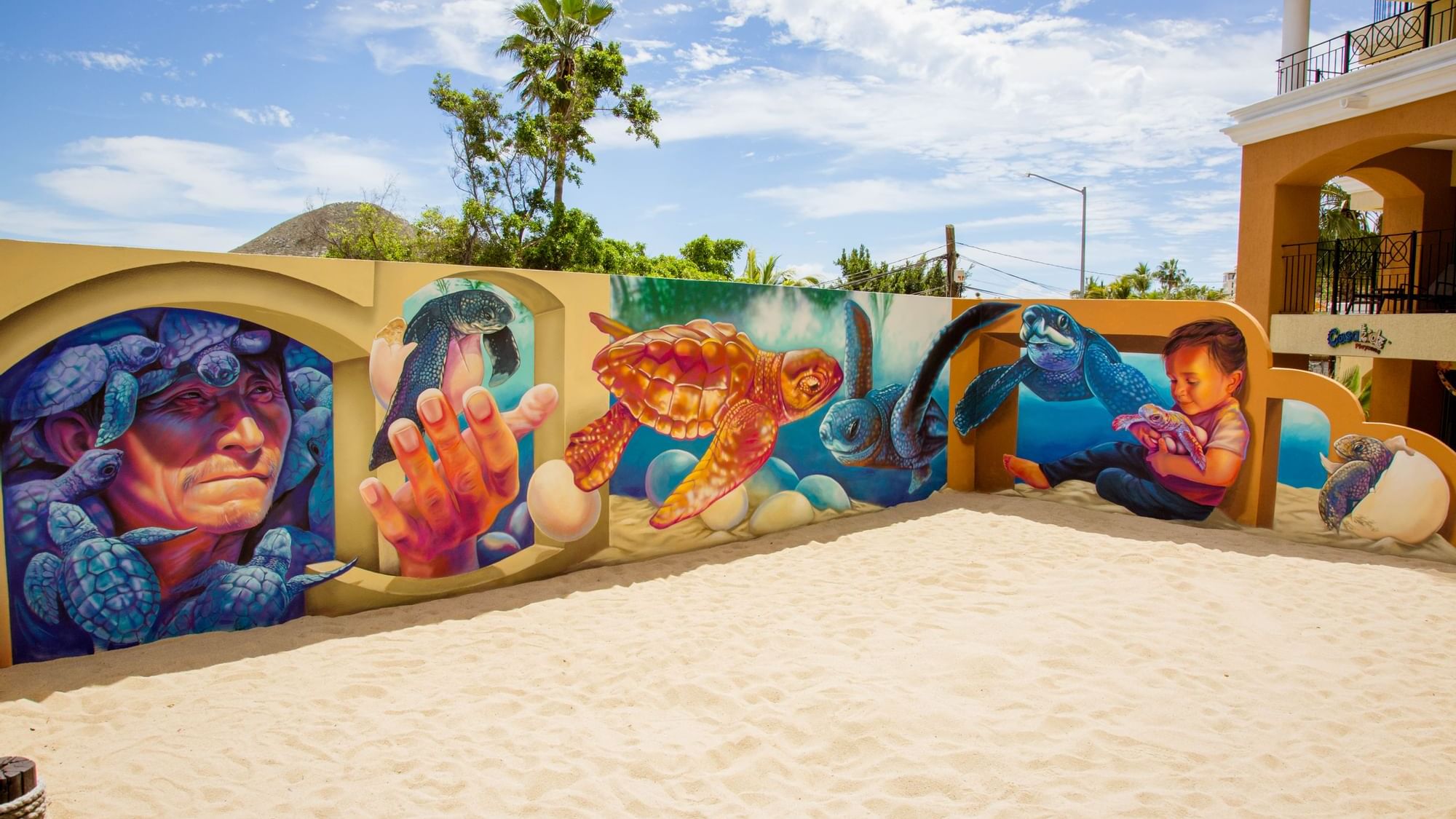 The story behind the enigmatic 3D Mural at Casa Dorada
Adry del Rocio and Turtle conservation in Los Cabos
If you have visited Casa Dorada during the last couple of months, you probably noticed a beautiful 3D mural with marine motifs, specifically with newborn turtles hatching from their eggs and with characters that seem to have a deep story behind their eyes. The work, which stands out for its typical Mexican colors, was made by urban artist Adry del Rocío, who is known for rendering her 3D technique in unimaginable places around the world. Her latest work was done for the Tokyo Olympic Games in the Mexican Olympic Committee, where Alexa Moreno, a famous Mexican Olympic gymnast, was captured among other athletes.
Who is Adry del Rocío?
Adry del Rocío is an artist from Jalisco with more than 20 years of an artistic career. With several awards to her credit, Adry is recognized as an artist who seeks to raise awareness in society regarding sensitive issues and of great cultural importance.
The artist began painting as entertainment that became her profession. Now there are 65 recognitions, 31 state awards, 11 national and 23 international. Since 2008 she ventures into street painting, an activity that has taken her to the United States, Canada, Colombia, Brazil, Germany, Italy, Holland, Sweden, England, among other countries.
In an interview with Mr. Leonardo Perli, General Director of the Hotel, Adry talks about her paintings, inspiration, and plans for her future in Los Cabos.
What is the story behind your painting?
The painting reflects the path of the sea turtle from its birth until it returns to the sea. "If you stand in front of the painting, on the floor sign, you can appreciate the story in 3D from left to right: The Lord of the Sea leaving a hatchling turtle in the Preservation Sanctuary; in a second scene, you can see the turtle being born and finally a small child-who represents future generations-returning the turtle to the sea, its home".
There are two species represented in the painting: Laud and Golfina, both vulnerable species and part of the marine turtle protection program that Casa Dorada has maintained since 2008 through its Environmental Management department, to "put our grain of sand" in ecological conservation - explains Leonardo Perli -.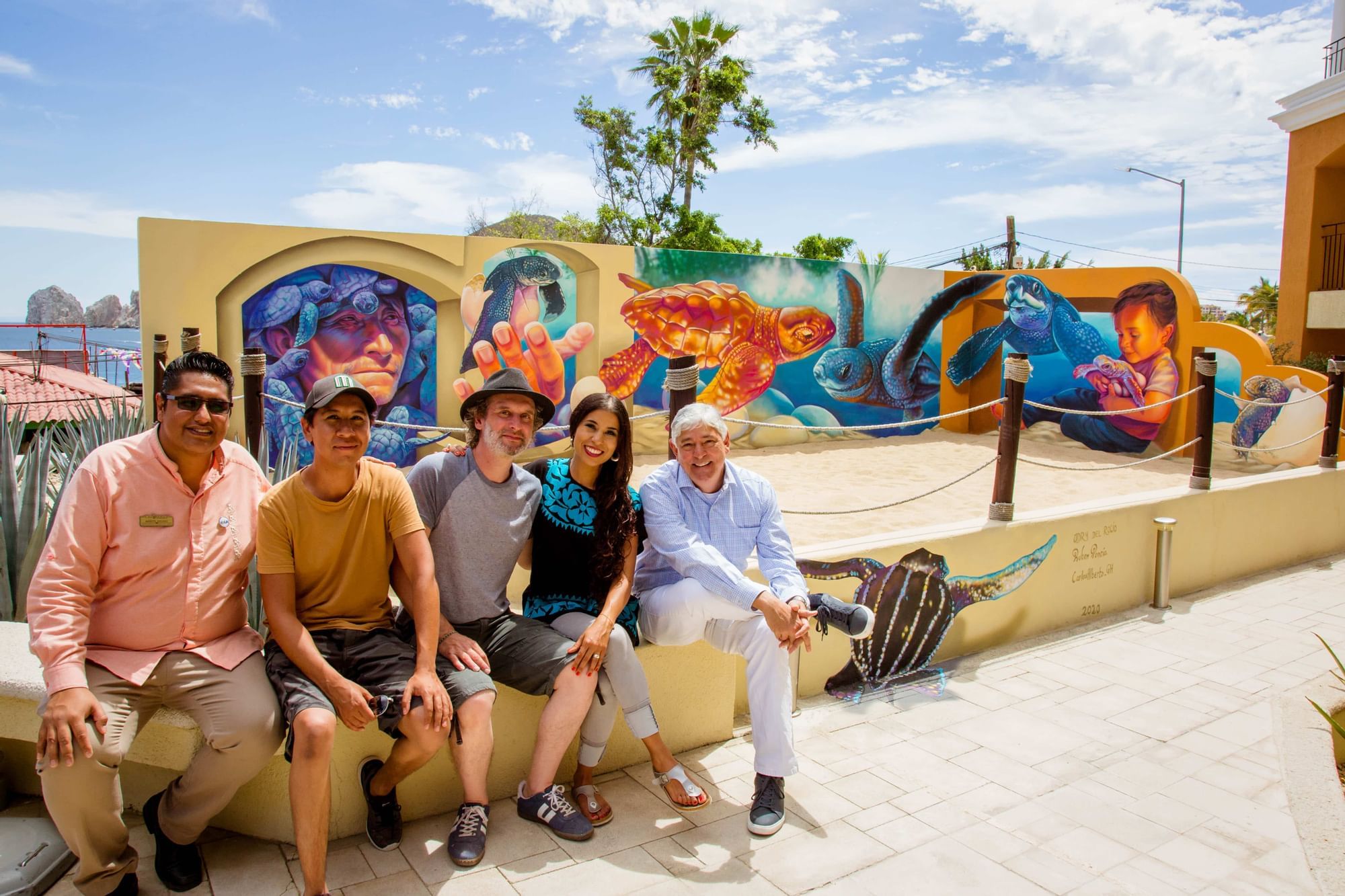 What would you like people to feel when they see your mural?
"I would like to raise awareness regarding the importance of conserving the sea turtle and nature in general, and above all, touching hearts".
Finally, Adry del Rocio says goodbye congratulating the Casa Dorada staff for their hard work with their sea turtle conservation program, and invites all visitors to enjoy the mural that she created with great affection for the guests of Casa Dorada.
Don't miss it when you visit us!
If you want a guided explanation on your next visit, do not hesitate to write to us at marketing@casadorada.com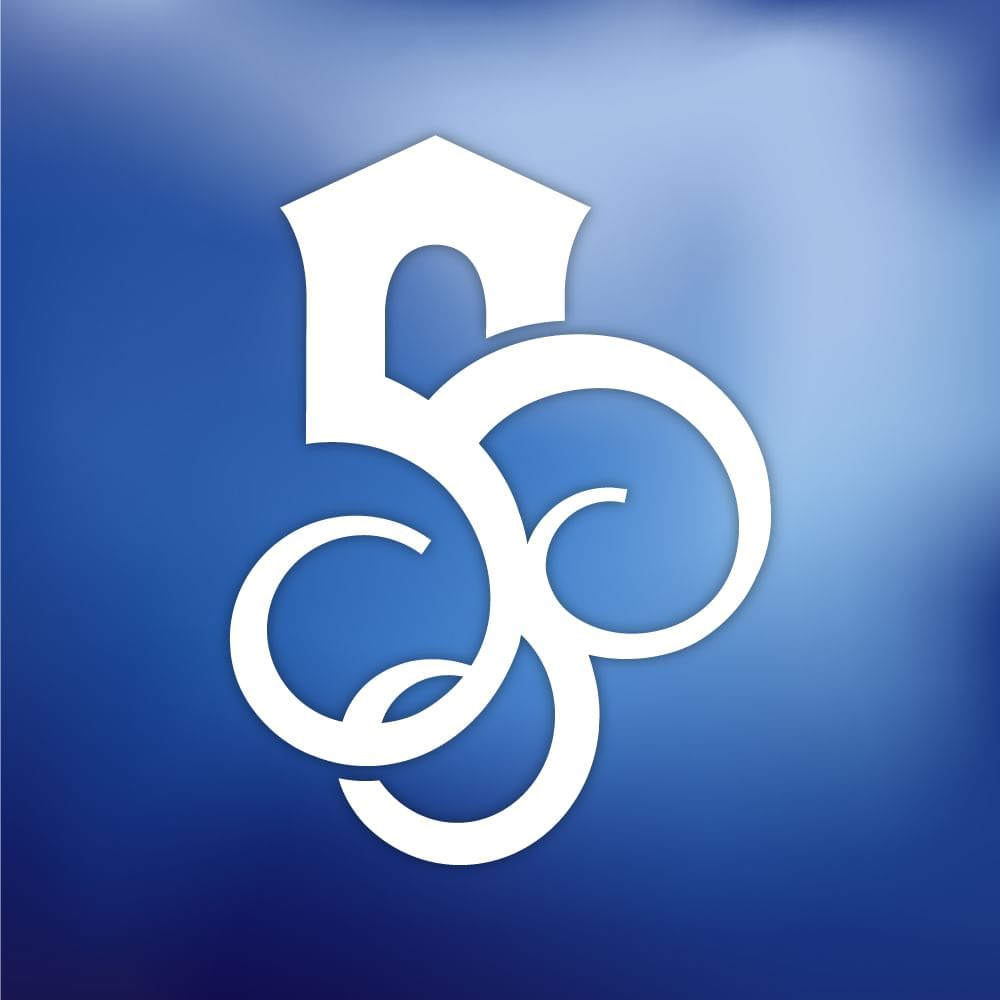 Digital Marketing Deparment for Casa Dorada.
For Media collaborations or questions about this article, contact us at marketing@casadorada.com
You May Also Like...