As of January 12, 2021, The Centers for Disease Control and Prevention (CDC) is expanding the requirement for a negative COVID-19 test to all air passengers entering the United States.
Starting on January 26, 2021, passengers will be required to get a viral test within the 3 days before their flight to the USA departs, and provide written documentation of their laboratory test result (paper or electronic copy) to the airline or provide documentation of having recovered from COVID-19.
In compliance with this requirement, Casa Dorada Los Cabos Resort & Spa is working alongside the public and private sector to ensure all international travelers visiting Los Cabos are able to access and take the viral test ahead of their return to the USA and Canada (Some Countries and States do not require the Tests at this moment). The tourism board is also working with the Los Cabos International Airport and several airlines to streamline this process and provide a pleasant travel experience to all tourists visiting our resort during this time.
More detailed information at Front Desk and Reservations Department at 1 866 448 0151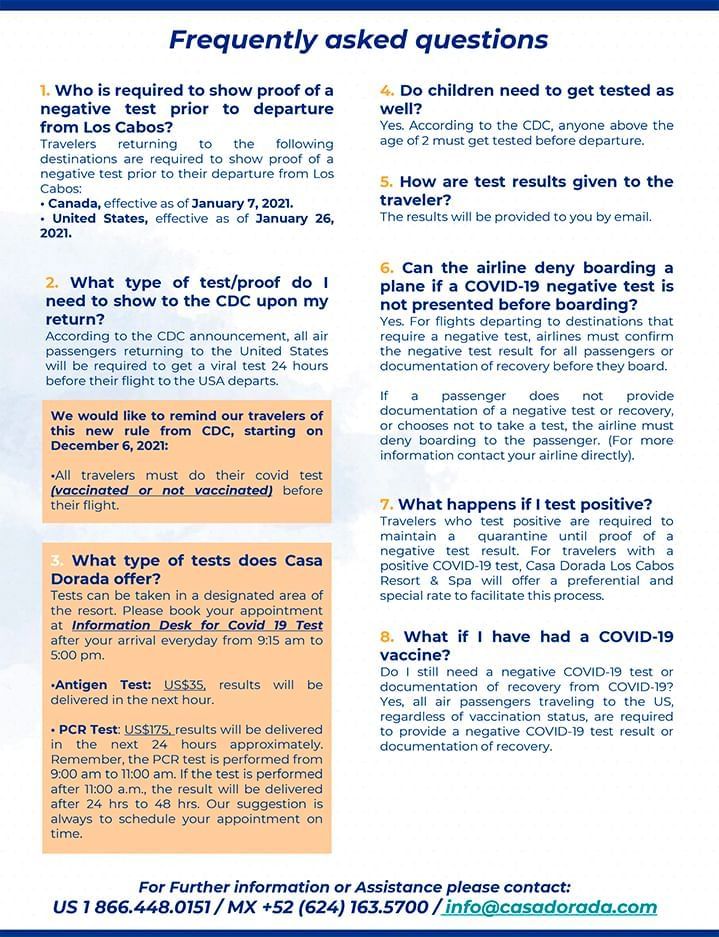 Cleanliness Policy
Casa Dorada Los Cabos Resort & Spa

To provide a safe environment to our guest and staff, Casa Dorada Los Cabos Resort & Spa has implemented "SAFE CASA" an internal program with more than 133 standards focused on the daily activities of the staff who comply with national and international protocols such as; "DISTINCTIVE H", "DISTINCTIVE PUNTO LIMPIO".
Safe Casa is our internal program with more than 133 protocols focused on the daily activities of the staff aligned to the Distintivo H and Punto Limpio standards. Each procedure indicates step by step how the staff member should carry out her activities in the "new normal", giving them security and confidence to offer a healthy environment. These protocols are linked by the different departments of the hotel considering the trajectory of the guest, before, during and after their stay.
The "Distinctive H", is a recognition granted by the tourism board and the Health Department, to those who operate food and beverage establishments: for complying with the hygiene standards set by the Mexican Standard NMX-F605 NORMEX 2015.
These are some of the actions to guarantee the hygienic handling of food on a daily basis:
Strict training program for our staff in the hygienic handling of food and beverages, certified by "Distinctive H".
Kitchen equipment and utensils are sanitized before, during, and after each shift based on hygienic & health standards.
Food handlers have a health card issued by the Health Department.
Fumigation & Sanitization program for each of the areas where food and drinks are produced and served.
Food handlers have access to a clean handwashing station with bactericidal soap, brush in disinfectant solution, hand sanitizer, and single-use paper towels.
Personal protection equipment is provided to our staff members.
Our food and beverages suppliers are certified by the health authorities.
The Distinctive of Quality "Punto Limpio" is a recognition granted by the Secretary of Tourism to Companies in the Tourism Sector (restaurants, hotels, centers leisure and entertainment, among others) for having implemented the methodology developed by SECTUR and applied by specialized consultants, registered with the Secretary in order to obtain the Quality Seal. That evaluates the points of Training of Managers, Hygienic Quality, and Good Practices by Business Unit, Quality Assurance, Consulting, and Validation.
Our business units are:
Front Desk, Lobby, Pools, Rooms, Restaurants, Playgrounds / Common areas, Gym, Spa, Business area.
Casa Dorada Los Cabos Resort & Spa is always committed to develop and deliver the highest standards in hygienic quality in Rooms and Common Areas / Public Spaces.
These are few of the actions that we guarantee on a daily basis in our rooms and common areas:
We supervise our suppliers to calibrate and make test of the device's dispensers for proper formula delivery
Staff is trained and updated in the correct usage and handling of chemicals for cleaning and disinfection
We ensure staff handling hygiene standards aligned to the "Punto Limpio" regulations
In rooms, all surfaces and contact areas are deep cleaning and disinfected
Common areas, public spaces, and contact areas are deep cleaning and disinfected
Each representative for guest services has the knowledge and disinfection surface material to use it on site
All staff members have access to a clean handwashing station with bactericidal soap, brush in disinfectant solution, hand sanitizer and single-use paper towels use.

Destinations around the world have signed onto the World Travel & Tourism Council's (WTTC) global safety and hygiene stamp to identify destinations that have adopted its standardized health and hygiene protocols. WTTC said the Safe Travels stamp enables consumers to identify places and companies that comply with the suggested protocols WTTC formulated for hotels, restaurants, airports, cruise lines, tour operators, restaurants, and transportation. The protocols were devised based on guidelines from the World Health Organization and the U.S. Centers for Disease Control and Prevention.
Hotels earn the Sharecare VERIFIED™ with Forbes Travel Guide badge by completing – and maintaining – verification on more than 360 global health security standards. The comprehensive assessment covers:
Health and hygiene protocols
Cleaning products and procedures
Masks and PPE
Ventilation
Management accountability
Health safety communication with guests and employees
Health security verification gives you the peace of mind that each hotel is committed to expert-validated best practices for your safety and comfort. More hotels are becoming VERIFIED™ daily.
Casa Dorada Los Cabos Resort & Spa has a Certified Quality Assurance Manager in order to audit and take immediate actions if improper follow-up is detected and a Certified Manager in Food Handling and Hygiene Control, who ensures daily that all rules and procedures are properly followed.
Basic recommendations to our guests along their stay are desiderable as follows:
Frequent hand washing; however, hand sanitizer dispensers will be available in hotel areas.
Wear a facemask in public spaces.
Social Distance (6ft or 1.80 m) on common areas.
If you have any physical illness, please report it to our Concierge for assistance.
If further information is required our Quality Assurance Manager can assist you.

Our priority is the health and safety of our guests and coworkers.
We look forward to offer our guest the best of their service experience by creating unique memories
The Management